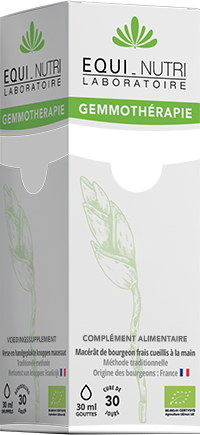 30ml
Indications and advices
Formula
Health allegations
Specific caution
Mandatory status
Ressources
Labels
Indications
– Stimulating and calming action on the nervous system (hypnotic and mild sedative): indicated in case of affective and emotional disorders, anxiety, obsessions, fears of anticipation, sleep disorders, depressive states
– Action on states of agitation and attention disorders in hyperactive children
– Action on the central nervous system: indicated in case of chronic autoimmune inflammatory disease (MS)
– Decongestant, anti-infectious and soothing action on the mucous membranes of the respiratory tract: upper respiratory tract infections, convulsive and/or dry cough
– Immunostimulant action
– Action on the chronic and evolving articular system
Presence, here and now, vigilance
The individual is locked in a world of disappointments, regrets, and self-deprecation that push him to refuse the present moment. He fears and adapts little to changes in life, which causes agitation. Honeysuckle* helps to ""take a leap"" into a new reality, encourages full acceptance of the new, and allows one to find meaning and interest in the here and now
Posology
5-10 drops/day, pure or diluted in a little spring water. Apart from meals.
Formula
Water, Ethanol* 25%vol. from wheat, Vegetable glycerin* from rapeseed (E422), Lonicera japonica* young stem: 0.6ml
Specific health allegations
Nihil
Ressources
Mandatory status and codes
Nutritional supplement
Ref.

GB3049

Nut/PL

CNK

EAN
Labels
General caution: Food supplement, this is not a medicine. Do not exceed the recommended daily dose. Not to be used as a substitute for a varied and balanced diet or a healthy lifestyle. Keep out of reach of children. Store away from light, heat and moisture. The preparation may be cloudy, without affecting the quality. Do not use for long periods without medical advice. To be used before the end of the year: see packaging.